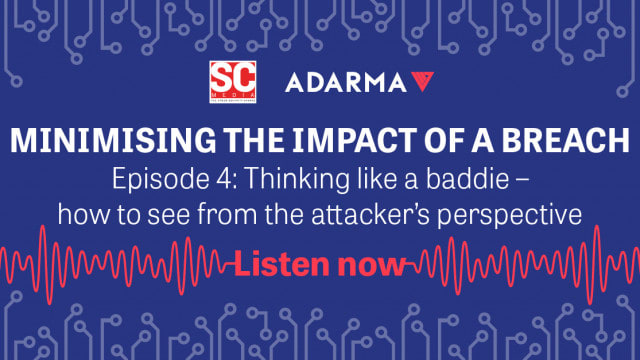 Cyber Crime
Special podcast episode 4: Think like a baddie
Listen to the fourth episode in this podcast series with Adarma about how to minimise the impact of a breach.
If you want to be really successful defending your organisation you need to see yourself as an attacker sees you – you need to understand their motivations, their objectives, how you would hack you… then you can begin to gain that visibility and vision – and take advantage over the countless "what-if" scenarios we face.
Join Kathryn Cave, Associate Editor on SC Media UK and our experts in how to think like the bad guys. Alistair Thomson, Product Lead at Adarma, Joel Barnes, EMEA SE Director at Tenable and Victoria Coker, Head of Information Security at Farfetch.
We discuss:
What are you protecting and why? What would an attacker make of this? Do they see a treasure chest or will they explore other vulnerabilities?
What would you attack of your business? What are your weaknesses?
Do you carry out breach simulations? What do these look like?
Do you explore 'what if' scenarios?
Are you exploring all the avenues an attacker may explore: people, process, and technology layers?
Listen to the other episodes in the "how to minimise the impact of a breach" series: