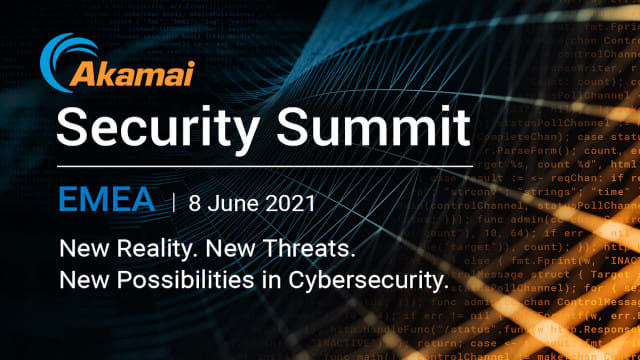 Events
New reality. New threats. And new possibilities in cybersecurity
Secure your place at the Akamai Security Summit EMEA all-digital event to hear from your peers and industry experts on the latest cybersecurity trends, tools and strategies for global cyber threat protection.
The past year has reminded us that change is a certainty. The workplace was reimagined as the world pivoted to remote working, but while online demand accelerated digital transformation, cybercrime proliferated – opening up even more ways for cyber criminals to expose vulnerabilities, disrupt services and steal sensitive data.
In today's digital world anything can happen, so you need to be prepared and agile enough to protect your organisation today, while you prepare for the risks of tomorrow.
Are you ready to rise to the challenge?
Akamai has created the Security Summit EMEA to bring you insights on the latest cybersecurity trends, tools and strategies for global cyberthreat protection at the edge.
In this all-digital event, we'll discuss the latest security strategies, explore new anti-phishing authentications and look at what technology and process shifts are required to adopt a Secure Access Service Edge (SASE) architecture. You will discover new approaches to mitigate account takeover and fraud attempts at scale, see how leading organisations are fighting back against API attacks and learn how to provide security for your multi-cloud architecture.
Join us on 8 June to hear from your peers and industry experts, learn about the latest threat intelligence and research, and leave with actionable strategies to protect your business.
Some of the event highlights, include:
Actionable insights from security expert Dr. Jessica Barker, who will help you understand the psychology and sociology of cybersecurity

Best practices from our customer panel – including Zalando SE, CTS Eventim, and Next PLC – to eliminate your risk against cyberattacks

Tips to protect your entire organisation, including employees, content, customers, and more.
Register now, and you'll be one step closer to securing your business – while exploring new markets and capitalising on new opportunities.